Military Nuo Dance reappears in Gansu
来源:
  2007-03-05 11:16
 编辑: Junzilan
---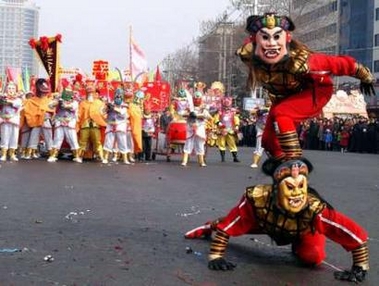 Performers wearing masks perform a ritual dance named 'Nuo' in Dongfanghong square in Lanzhou, capital of Gansu province on February 9, 2006.
'Nuo' is an ancient festival held traditionally during the Chinese Lunar New Year holidays.
The Nuo ritual has been practiced in China from the primitive times when Chinese conducted ceremonial services to pay tribute to ancestors or gods while exorcising demons. The military Nuo dance reproduces the ancient battle scenes with imitations of primitive people and beasts.
The festival is believed to exorcise evil spirits causing plague.
相关新闻