UN chief, experts laud China's role in WWII
来源: Xinhua
  2015-08-30 14:25
 编辑: 王守超
---
BEIJING -- UN Secretary-General Ban Ki-moon and experts from around the world have highly commented on China's contribution to and sacrifice in World War II (WWII), shortly before China's Sept. 3 parade to mark the 70th anniversary of its victory in the Anti-Japanese War.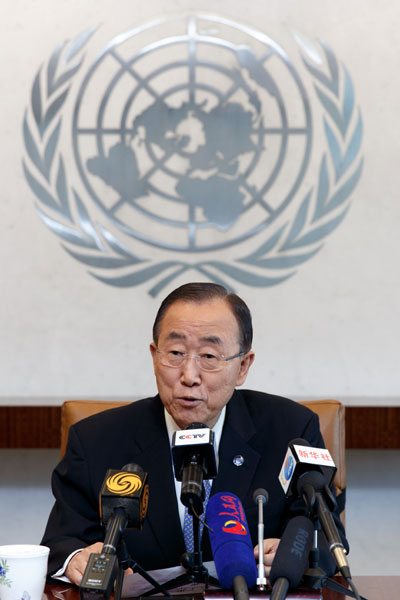 UN Secretary-General Ban Ki-moon meets the press at the UN headquarters August 28, 2015. [Photo/Xinhua]
"China's contribution and sacrifice during the Second World War is very much recognized, (China is) appreciated for all such sufferings, and sympathized by the world's people," Ban told reporters at the UN headquarters.
Japan invaded Northeast China in 1931 and had conducted a full-scale invasion since 1937. By the end of World War II, more than 35 million Chinese were killed or wounded during the Japanese aggression.
The UN secretary-general will join 30 heads of state, including Russian President Vladimir Putin and Republic of Korea President Park Geun-hie, in attending the upcoming celebrations of the victory in the Anti-Japanese War.
China, which won the war in the major oriental theatre of WWII, will stage a grand military parade in the heart of Beijing to mark the anniversary on Sept. 3.
Asked about his response to the reported Japanese concern on his upcoming China visit, the secretary-general said it is very important for the world community to learn from the past and move forward.
The Chinese people's contribution to the victory in World War II has been significantly underestimated until recently, said Nikolay Samoylov, an East Asia expert at St. Petersburg State University.
The Chinese people deserve credit for having faced the threat single-handedly in the early years of the war following the beginning of overt Japanese aggression in 1931, Samoylov said on the eve of the 70th anniversary of the end of World War II and the liberation of China from Japanese aggression.
Ukrainian historian Oleksiy Koval called China's resistance against Japanese invasion an example of the nation's struggle for freedom.
"China's resistance to Japanese aggression can be called one of the most heroic and tragic pages of World War II," said the expert, who is also a member of the Ukrainian Sinologists Association.
During the conflict, Chinese people showed exceptional courage and made an enormous national sacrifice, he said.
Chinese people's role in defeating Fascism deserves greater recognition, said Kazakh President Nursultan Nazarbayev.
China made unmeasurable contributions to the Allied victory in WWII, Nazarbayev told Xinhua in an interview before departing for China to attend the Sept. 3 parade.
China's military parade symbolizes a sense of pride and is a celebration for heroism and the older generation's remarkable feats, he said.
Nazarbayev also expressed concern about some forces' attempt to distort the history of WWII, saying the deliberate manipulation of history has become a publicity means for some politicians.
The distortion of history aims to serve for short-term political interests, including stirring up social hatred, he said.
相关新闻